船用辅助机械设备及备件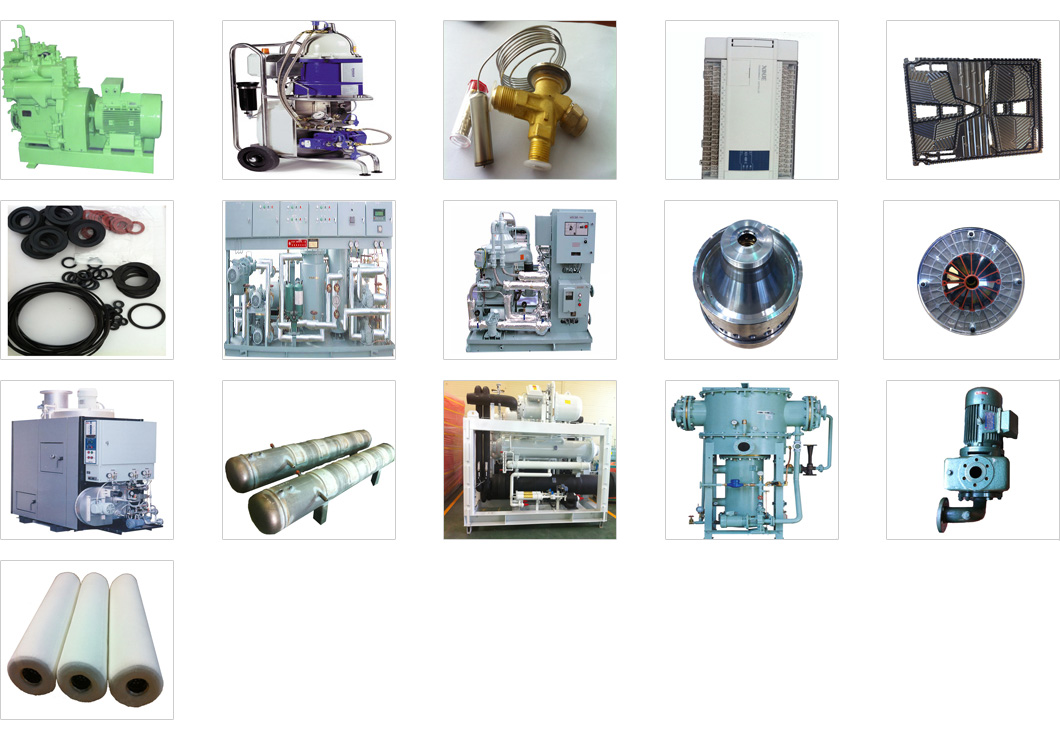 Compressor
YANMAR
SC-5N SC-7N SC-10N SC-2.5N SC-15N SC-20N SC-25N
SC-30N SC-40N SC-50N
TANABE
HC-64 HC-65A HC-264A HC-265A HC-274A HC-275
HC-277 HC-295 HC-475
HATLAPA
W110 W220 W330 W80 W140 W280 W420 W55 L80
HAMWORTHY
2TF5 2TF54 2TM67 TM63 2SF42 TGD24G
MATSUBARA
MS-65 MS-70 MS-85 MS-92A MS-108 MS-111
MS-114 MS-120 MS-130
SANWA
SKC-5B SKC-8 SKC-10 SKC-15 SC-80 SC-100 SC-100H SC-115H
SPERRE
HV1/140 HV1/156 HV2/200 HV2/210 HV2/219 HV2/220 HV2/240
SAUER
WP60 WP110 WP135 WP220 WP270 WP120L WP225L WP250L WP270
MATSUBARA
MH108 MH111 MH114(A) MH120(A) MH130(A) MS64A MS70 MS75(A) MS85(A) MS92(A)
NANJING
WP18L WP25L WP32L WP80L WP100L WP250L WP60 WP110 WP135 WP160 WP185 WP220 WP270 WP320 WP370 CZ60/30 CZ120/30 CZ180/30 CV240/30
BOCK
ALL TYPES
ATLAS COPCO
ALL TYPES
SABROE
ALL TYPES
Separator

ALFA LAVAL
CAMELOT Marine China CO.,Limited.is authorized by Alfa Laval (Shanghai) Technologies Co.,Ltd / Alfa Laval(China) Ltd as the agent of Alfa Laval, We can supply ship-owner all types spare parts of vessel products made by Alfa Laval, we also can supply the device for vessel's update work and technical include repair service.
Alfa Laval was founded on 1883, for marine service she can offer solutions for oil treatment,cooling and heating, as well as environmental protection, tank cleaning and desalination.Not surprisingly, we've kept to the essentials in these processes as well – steadily making them simpler, more reliable and conomical.Technology evolves,but the essentials remain unchanged.
Separator:
FOPX series.LOPX series.MMPX series.MOPX series.P100-P150,S820-875, SU 811-886
Heat-exchager
ALL TYPES
MITSUBISHI
SJ-700 SJ-2000 SJ-4000 SJ-6000 SJ-8000
SJ-10T SJ-11T SJ-15T SJ-16T SJ-20T SJ-25T
SJ-30T SJ-40T SJ-60T SJ-25EH SJ-60EH
WESTFALIA
OSA7 OSA20
YSF-Q
ALL TYPES
NANJING
DRY-15(KYDR203) DZY-30(KYDH206) DZY-50(KYDH209) KYDH204, KYDH407


Refrigerator / air conditioner

HI AIR KOREA
ALL TYPES
SABORO
BFO-3 BFO-4 BFO-5 SMC-65 SMC-100 SMC-106S SMC-108S
DAIKIN
4MC115 4HC582 4C552 4HC552 6C752 6HC752
CARRIER
5F20 5F30 5F40 5F60 5H40 5H60 5H80 5H120 5H46 5H66 5H86 5H126

Marine Pump

IMO PUMP – We Can Offer IMO Pump Original Spare Parts Competitively
ALL TYPE
ALLWEILER
SPF SN SNF
BORNEMANN
E1H E2H E3H E4H W.V
CHANG ZHOU
ALL TYPES
HEISHIN
ALL TYPES
HAMWORTHY
ALL TYPES
IRON
ALL TYPES
JMW
ALL TYPES
KSB
ALL TYPES
NANIWA
ALL TYPES
OCEAN WATER
ALL TYPES
SHUN DA PUMP
ALL TYPES
SHINKOKINZOKU
ALL TYPES

TAIKO KIKAI
ESC TMC TMS EMC VSN EHC VSNS
TEIKOKU
ALL TYPES
THUNE-EUREKA
ALL TYPES
TIANJIN PUMP
ALL TYPES
ZHEN HUA
ALL TYPES


Incinerator
HASEGAWA – We Can Offer Hasegawa Spare Parts Competitively
ALL TYPES
FUEL OIL SUPPLY UNIT (FOU SERIES)
HOMOGENIZER(EN/SM SERIES)
CUBAGE FINE FILTER(SAG SERIES)
AUTO BACKWASHING STRAINER (NHF,NHL SERIES)
BLENDER EQUIPMENT
FRESHWATER GENERATOR
PURIFIER UNIT
Donkey boiler
HASEGAWA – We Can Offer Hasegawa Spare Parts Competitively
ALL TYPES
MIURA – We Can Offer Hasegawa Spare Parts Competitively
Competitively
ALL TYPES
Hydraulic equipment parts –We Can Offer Hasegawa Spare Parts Competitively
IHI HAGGLUNDS
KAWASAKI MITSUBISHI
NACHI FUKUSHIMA
ALL TYPES
We provide the original IHI crane spare parts, Macgregor crane & hatch cover spare parts. We supply all kinds of the hydraulic motor and joint. We also customized hydraulic pipe fittings, high pressurer hydraulic hose, etc.
Lashing and mooring Material
We supply the lashing and mooring Material,anchor and anchor chain with class certification, & special container fittings, include the world-wide latest automatic twist locks.
Marine electronics, instrument
We supply Marine electrical components: electromagnetic relays, pressure sensor, temperature sensor, viscosity control system of VAF,we supply the original sensor and controller, electric switches & marine instrument etc.